Here is a collection of favorite jam tunes found around the Tampa Bay area. Cece started a list of
favorite jam songs
that now has additions from Rick, George, Russ, Dona & Mel, Barbara Allen & Orange Blossom Special
Here's a continuing alphabetized version with keys filled in for some songs.

Florida Music Food Initiative, Inc.

A Florida Non-Profit Corporation

President: MARY BETH CAMPBELL
Directors: CAROLYN DUNN, JENN WEIDLEY, WILLIAM L. WHITACRE

Florida Music Food Initiative, Inc. (FMFI) was formed for the purpose of producing a collection of songs by Florida songwriters for a CD to generate funds in support of individuals and families experiencing hunger and homelessness. All sales of the CD and donations to FMFI will go to organizations in Florida that provide food and/or shelter to those in need, less only direct expenses of producing the CD. All individuals participating in this project are donating their time and talent. An ongoing full and open accounting of all funds raised and distributed
will be posted on the FMFI website http://www.floridamusicfoodinitiative.org/. Because of the tremendous response of songwriters, the initial compilation will consist of two CD's within one case which will be called "AM I MY BROTHERS' KEEPER?"



The songs being produced for the CD are by Florida-based songwriters and performing artists, some of whom have years of national and international experience. Many are award winning, and some have performed with, and written songs for, major recording artists. Participating writers (in alphabetical order by first name) include:



Al Scortino - When our Ship Comes In
Austin Truax - Who's Gonna Help
Bill and Eli Perras - The Night Wind and Ben
Bill Whitacre - What Will They Say About You (When You're Gone)
Bob Rafkin - No Place to be Today
Carolyn Dunn and Paul Dunn - One Paycheck Away
Ed Kavetsky - Don't Curse the Darkness
Ellen Bukstel - Somebody's Child
Gail Carson - Holding a Sign
Ishmael Katz - A Hard Working Man (On a Hard Luck Streak)
James Hawkins - Swept Away
Jeff Friberg - Common Ground
Jenn Weidley - One Dream at a Time
John French - Land of Freedom
Ken Skeens - You Never Know
Larry Mangum - American Dream
Mary Beth Campbell - The Beggar
Mindy Simmons - Somebody's Baby
Ron Smykay - Extra Bagels
Roy Schneider - A Strange Wind
Sean Curran - Milk and Honey
Steve Humes - Exit 32
Susan Foster "Susie Cool" Trewick and Kent Trewick - Cold Cold Ground

FMFI will be presenting free concerts and participating in community events and at venues throughout Florida to publicize its efforts to support those in our community who are in need and less fortunate than ourselves. The CD is expected to be released at a major press event in November. Donations may be made payable to Florida Music Food Initiative, Inc. For more information contact Mary Beth Campbell, President, 407-587-9395.

FMFI: "Helping our community through music and song."
Visit: http://www.floridamusicfoodinitiative.org/
DATES TO REMEMBER


2017 SUMMER
Sept 8 - 10 , Stephen Foster Suwannee Old Time Music Weekend, White Springs
https://www.floridastateparks.org/park-events/Stephen-Foster

Sept 17, 4th Annual Folk In the Springs, High Springs
http://www.foff.org/index.php/category/531-folk-in-the-springs-high-springs

Sept 30, SteveFest, Punta Gorda

2017 FALL

Oct 7 - 8, Annual Flagler County Creekside Festival, Palm Coast
http://flaglerchamber.org/creekside-festival/

Oct, Old Miakka Fall Hootenanny & Schoolhouse Restoration Benefit, Old Miakka.
15800 Wilson Rd. 10 am - 4 pm. Becky: 941-322-2164

Oct 13 – 15, Annual FL State Fiddlers' Convention, Brooksville
https://flafiddlers.wordpress.com/annual-convention/

Oct 14 - 15, 20thAnnual Lake County Folk Fest, Eustis
http://www.lakecountyfolkfest.org

Oct, Magnolia Festival, St Augustine
http://magnoliafest.com/

Oct 21 - 22, 51st Annual Rattlesnake Festival, San Antonio
http://www.rattlesnakefestival.com

Oct 21 - 22, 35th Annual Orange Park Fall Festival, Orange Park
http://www.evansmediasource.com/index_files/evansmediasourceevents.htm

Oct 28, Country Jubilee at Heritage Park, Largo
http://www.pinellascounty.org/Heritage

Nov 1 -2, Rural Folk Life Days, White Springs
https://www.floridastateparks.org/park-events/Stephen-Foster

Nov 3 - 5, Tampa Bay Ukulele Getaway, St Pete Beach
http://www.tampabayukulele.com/

Nov 4, Annual DeLand Original Music Festival & SSA's Music Awards, DeLand
http://www.ssa.cc/deland.htm

Nov 4 - 5, Barberville Fall Jamboree, Barberville
http://folkfiddle.com/barber.htm

Nov, Folkfest St Pete, St Petersburg
http://www.folkfeststpete.org/

Nov 9 - 11, 10th Annual Palatka Bluegrass Festival, Rodeheaver Boy's Ranch
http://adamsandandersonbluegrass.com/Fall-Palatka-Bluegrass-Festival.html

Nov 9 - 12, Riverhawk Music Fest, Brooksville
http://www.riverhawkmusic.com

Nov 10 - 11, Suwannee Dulcimer Retreat, White Springs
https://www.floridastateparks.org/park-events/Stephen-Foster

Nov 11 - 12, Frank Thomas Florida Folk Heritage & Music Festival, Bushnell
http://crackerheritagefestival.weebly.com/index.html

Nov, Lannadoo Jacksonville Celtic Festival, Jacksonville Beach
https://www.everfest.com/e/lannadoo-jacksonville-celtic-fest-jacksonville-beach-fl

Nov 23 - 25, Annual Thanksgiving Bluegrass Festival, Brooksville
http://sertomayouthranch.org/thanksgiving-day-event/

2018 WINTER

Jan 18 - 21, 23rd Yee Haw Bluegrass Festival, Okeechobee (new location)
http://www.evansmediasource.com/index_files/evansmediasourceevents.htm

Jan, FOFF Fest, Tampa
http://www.foff.org

Jan, Variety of Performing Musicians, White Springs
https://www.floridastateparks.org/park-events/Stephen-Foster

Jan 27, 15th Annual Caloosahatchee Celtic Festival, Ft Myers
http://www.celticheritageproductions.com/caloosahatchee.htm

Jan, Pinellas Folk Festival at Heritage Village, Largo
http://www.pinellascounty.org/Heritage

Jan, South Florida Folk Festival, Ft Lauderdale
http://www.southfloridafolkfest.net/

Feb 9 - 10, 12th Annual Central FL Dulcimer & Autohop Festival, Mt Dora

Feb, Indie-Folk Festival at Mennello, Orlando
https://indiefolkfest.wordpress.com/

Feb 14 - 18, 30th Annual Folk Alliance Conference, Kansas City, MO
http://www.folkalliance.org/conference/

Feb 15 - 17, 14th Annual Palatka Bluegrass Fest, Palatka
http://adamsandandersonbluegrass.com/Palatka-Bluegrass-Festival.html

Feb 21 - 24, Florida Bluegrass Classic, Classic Park, Brooksville
http://www.evansmediasource.com/index_files/evansmediasourceevents.htm

Feb 22 - 25, 6th Annual Florida Gulf Coast Dulcimer Retreat, Homosassa
http://floridagulfcoastdulcimerretreat.blogspot.com/

Feb 24, NE Florida Scottish Highland Games & Festival, Green Cove Springs
http://www.neflgames.com

2018 SPRING

Mar 9 - 11, 29th Annual Will McLean Music Festival, Brooksville
http://www.willmclean.com

Mar, Suwannee Spring Reunion, Live Oak
http://www.suwanneespringreunion.com/

Mar, Sertoma Spring Bluegrass Show, Brooksville
http://www.evansmediasource.com/index_files/evansmediasourceevents.htm

Mar 22 - 25, Suwannee Banjo Camp, Live Oak
http://www.suwanneebanjocamp.com

Apr, Florida State Bluegrass Festival, Perry
http://www.floridastatebluegrass.com/

Apr, Stringbreak Festival, Brooksville
http://www.lindentertainment.com/

April, FSFA Old Time Jamboree, Brooksville
https://flafiddlers.wordpress.com/fsfa-old-time-jamboree/

Apr 21 - 22, Ormond Beach Celtic Festival, Ormond Beach
http://ormondbeachcelticfestival.com/

Apr 26 – 29, Merlefest, Wilkesboro, NC
http://www.merlefest.org

Apr, Spring Frolic, Barberville
http://www.folkfiddle.com/barber.htm

April, Annual Gamble Rogers Music Festival, St Augustine
http://www.gamblerogersfest.org/

May 25 - 27, 66th Annual Florida Folk Festival, White Springs
https://www.floridastateparks.org/folkfest



from ALAN Rhody_____________________
Hello Florida Folk! Hope you're having a great November!

First, thank you for all your past support and presentations.

I wanted to get in touch and let you all know I have a confirmed date
in January, 2014 in Boynton Springs and hopefully will be able to connect with
some others. If you or someone you know who would be interested in a house concert
or other venues who may be, please get in touch as soon as you can.
Also, if you can put it on your list serve of Florida presenters and venues,
it would be extremely appreciated.

I'll be at the 30A Festival up in the Panhandle / Seaside area, which concludes on
Sunday January 19, 2014.

I'm confirmed for
SAT. JAN. 25
BOYNTON BEACH (private concert)
Looking to fill dates from JAN. 21 - 24
as well as SUN. JAN. 26 and into the following week.
The presenters in Boynton Beach have assured me I can be playing anywhere
close to there as need be and still not conflict with my concert on Jan. 25.

If any of you need to hear from recent presenters/references,
here are a few:

Cheryl & Norm's "Laughing Parrot Tiki Hut"/Facebook
Bonita Springs
https://www.facebook.com/groups/274400569237962/

Sam Tritico, Merritt Island/ Cocoa Beach
<winwinmusic@aol.com>

Russ Morrison, Naples
Russ Morrison <bluewaterbg@gmail.com>

Cheryl Marshman, West Palm Beach
<cherylmarshman@gmail.com>

Thank you all so much for your consideration. And I look forward to hearing
back from any of you at any time.

Sincerely,

Alan Rhody

http://www.alanrhody.com
http://www.reverbnation.com/alanrhodymusic
http://www.cdbaby.com/all/roadman
http://www.youtube.com/watch?v=zF6ddEZdyK0
http://www.facebook.com/AlanRhody
615-945-9622

_______________________


Jenna Lindbo Booking February House Concert Dates

Hello from Maine! A few years ago I played at the Craftsman House with Catie Curtis and fell in love with St. Pete! We had a marvelous time in St. Augustine, Tampa, and Key West as well. The artwork on my new album was actually inspired by a photograph I took of an upright piano sitting out on a street corner in Florida!

I'm excited to return to your pocket of the map, and while most venues and house concert series book far in advance, I'm hoping to fill in some dates between Feb. 4-13th. From Sarasota to Tallahassee, St. Pete to St. Augustine...and?!? I appreciate your interest and I am also booking 2015 if your calendar is full and it's not possible to host a show in February. Either way, it'd be wonderful to connect and hopefully even meet when I'm in the area. I'm also attending the Folk Alliance in Kansas City so if you're heading to the conference, definitely reach out!

In case you need a musical interlude this afternoon, this is a music video I just released ~ my first time playing banjo on a boat, hopefully not the last : ) I look forward to hearing from you and hope to see you in February! Please be in touch and if you'd like to hear more music visit www.jennalindbo.com. Take care.

Best,
Jenna
http://youtu.be/5x3EkTgthIo
Jenna Lindbo

NEW ALBUM ~ JASMINE PARADE produced by Lorne Entress and featuring Catie Curtis, Edie Carey, Peter Mulvey, and Kai Welch

www.jennalindbo.com


_______________________
Available Feb 22 and 23
TRACY GRAMMER rose to acclaim as half of the "postmodern, mythic American folk" duo, Dave Carter & Tracy Grammer. From 1998-2001, the duo released three internationally celebrated, folk chart-topping albums featuring Carter's mytho-poetic Americana songcraft and in 2002, toured with Joan Baez, both as featured artists and Baez's band members. Called "the new voice of modern folk music," the duo was clearly in its ascendancy when in July 2002, Carter suffered a fatal heart attack while the duo was on tour in Massachusetts. He was 49; Grammer, 34.

Determined to honor the duo's journey and bring Carter's award-winning songs, and those of other favorite writers, to broader audiences, Grammer kept to the road and now tours internationally, releasing solo albums as well as recovered and reclaimed Dave Carter & Tracy Grammer material. Her latest release, LITTLE BLUE EGG, is a collection of archived recordings from the duo's home studios. LBE was the #1 most-played album on Folk Radio in 2012, and once again, the duo were the #1 most-played artists for the year.
Grammer has become one of folk music's most beloved performers. Renowned for her springwater-clear alto, perfectly intoned violin, and guitar playing that is by turns percussive and delicate, Grammer has also become a masterful storyteller with an ease and charisma on stage -- not to mention a riotous sense of humor -- that hardly belie her modest beginnings as Carter's ethereal and reclusive accompanist. Stories about the duo's first meeting, Carter's quirks and fancies, or Grammer's own misadventures and missteps are woven thoughtfully into the set list to create a uniquely personal evening that connects audiences to performer, to the Carter/Grammer legacy, and most importantly, to one another. As one fan put it, "With her, it's never just about the music. It's a soul journey."
Grammer tours the United States and Canada regularly, and has traveled to Europe and Japan. She holds the record for the most consecutive appearances at the Falcon Ridge Folk Festival ~ a lucky 13. She performs in a variety of configurations -- solo, duo, trio, and full band -- with Jim Henry (Mary Chapin Carpenter, Burns Sisters, Susan Werner), Rob Schnell (Glim Dropper, Christine Havrilla), Tom Hampton (Marshall Tucker Band, Poco), and David Chalfant (Nields) rounding out her ensembles.
In addition to touring, she is the director of the new Dave Carter Legacy Project and the publishing administrator for Carter's catalog of music. In 2014, Grammer will participate in REALWOMENREALSONGS, a creativity challenge on YouTube where 22 women will each post a new song weekly for an entire year. She is also the social media coordinator for the Bucks County Writers Workshop.
Grammer is currently based in Doylestown, Pa., where she lives with her beau, his three teenagers, a dog named Blitzen, two betta fish and her beloved Miss Kitty.
Tracy will be doing a house concert February 21 in Venice, Florida

( contact hswiseheart@ gmail.com for info) and would like to book gigs in Nearby areas
on February 22 (Sat) and February 23 (Sun). BTW Tracy was born in Homestead,
Florida and has many fans in Florida.

....................................
tracy grammer
p.o. box 41, doylestown pa 18901
all-new website! / facebook

--------------------------------------
tracy grammer booking
booking@tracygrammer.com
p.o. box 41, doylestown pa 18901
503-475-7473 cell/txt
tracy grammer press kit
facebook / twitter


Naming the Twins is the Nova Scotia based, harmony-filled guy-gal duo of Robbie Smith and Kathleen Glauser, whose well matched voices sound a bit like Simon & Garfunkel if Art was a girl, Peter, Paul & Mary, if one of the boys was taking the night off, Gordon Lightfoot or Stan Rogers if they had had a girl harmonizer.

Kath and Robbie have a repertoire of music that includes old favorites and a blend of original tunes that woo memories of the 60's and 70's. As one observer noted "This duo understands entertainment and how to embrace their audience".

Naming the Twins new release Drifters & Dreamers was recently chosen as CD of the week by one of America's longest running, most widely syndicated folk shows "The Midnight Special".

"Drifters and Dreamers" features all original folk songs with a Canadiana - Americana theme, taking the listener on a journey from the wild seas off the coast of Newfoundland to the dry parched deserts of the deep south.

Robbie and Kath have twice toured the eastern USA, and now a third tour is slated this winter from Mid January til mid February with much of the emphasis on Florida.

A review from an audience member:
Absolutely terrific!! Head and shoulders with the greats of the folk era, PP&M included! Fantastic guitar, melody, harmony, lyrics, beat, and wonderful voices all coming together to make REAL MUSIC! Rare and wonderful!!
_____________________________
Tom Ghent sums up his motivation for writing in those few words. And communicate he does.
Whether in his albums "Tom Ghent" on Tetragrammaton Records, "Yankee's Rebel Son" on Kapp/MCA Records, "All Strings Attached" on Sutherland Records, or from the stage, Tom Ghent gets his point across, putting you in touch with feelings you may have forgotten you had.
"RETROFLECT", a 2010 Sutherland Records release, is the fourth album from the "Yankee's Rebel Son" who began his career in R.I. before moving to New York City's Greenwich Village. It is a newly recorded collection of songs from Greenwich Village in the sixties. Of the twelve cuts, eight are original Ghent compositions and four are songs which Tom learned from his fellow writers who wrote them, back in the day.

Tom's songs have been recorded by Kris Kristofferson, Gene Watson, Bobby Bare, Mama Cass, Bobby Goldsboro, Michael Settle, Rita Coolidge, Charlie Louvin, and dozens of others. His classic, "Whiskey Whiskey" is considered a standard, and has been cut by a long list of performers in a variety of styles. He's played lead guitar for Mickey Newbury, appeared as a background vocalist on Joan Baez' "The Night They Drove Old Dixie Down" and Steve Goodman's "City Of New Orleans", and his expertise in the studio is well known and respected among his industry peers. His performances have taken him from the coffeehouses of the Greenwich Village folk scene, to country honky tonks, The Philadelphia Folk Festival, Big Sur Folk Festival, Monterey Pop Festival, The Willie Nelson Picnic, The Hollywood Bowl, and numerous radio and television appearances. Tom also sang the title song on the soundtrack album for the Mick Jagger movie "Ned Kelly", a soundtrack which also featured Kris Kristofferson, Waylon Jennings, and Jagger himself.
Tom's brainchild, Sutherland Records, originally created to give himself artistic control over his own recordings, now boasts a roster of Ghent produced singer/songwriters from the sixties including Jerry Merrick and Justin Devereaux.
Tom's songs are tender narratives of dreams, hopes, and misunderstandings between father and son, man and woman, the lessons of time, and lust for the road. He delivers them in a rich, warm, expressive voice which compels the listener to understand.

Contact:
Tom Ghent
Sutherland Records
P.O. Box 2040
Brentwood, TN 37024-2040
phone:cell (615) 832-1225 / land line (615) 953-1282
Allmusic: http://www.allmusic.com/album/tom-ghent-mw0000889280
Facebook: https://www.facebook.com/pages/Tom-Ghent/112629275460471
email: sutherlandrecords@yahoo.comMark Mandeville & Raianne Richards Touring to FL in January 2014

Mark Mandeville & Raianne Richards are a folk duo from Massachusetts whose songs resonate with the lover of Americana and old country music - commanding familiar traditional melodies and poignant, introspective lyrics, and backing them with delicate arrangements on ukulele, clarinet, guitar and banjo. They began in the basements, coffee shops and art spaces of New England, and have since tested the stages of more traditional folk music venues, colleges, living rooms and bar rooms from Boston to Austin, Denver to Nashville, Asheville to Portland, and back 'round again. Hundreds of concerts have been given and thousands of records have been sold, all on their own steam and without the support of major industry assistance. Over the years, Mandeville & Richards have shared the stage with acts like John Gorka, Joan Osborne, Mustard's Retreat, Atwater & Donnely, Antje Duvekot, The Low Anthem, David Wax Museum and Brownbird.

This January, Mandeville & Richards will revisit some select towns along the Eastern Seaboard en route to Florida, singing new material from their upcoming release Hard Times & Woes. Their music has been featured this year at the New England Folk Festival(NEFFA) in Mansfield Massachusetts, the thirteenth annual Keene Music Festival, and most recently on a cruise ship traveling between Nova Scotia and Newfoundland. This year also marked the fourth annual Massachusetts Walking Tour, a non-profit bipedal concert tour of the state promoting arts and culture in the smallest towns of Massachusetts – an organization founded by the duo in 2010.

"Behind the tone of a classic country record a collection of timeless melodies are going to soak you like rain until you're absolutely wet." Read More... - Pecan Pie, Spain

For more information and upcoming concert dates, visit www.markmandeville.com.


VIDEO: http://www.youtube.com/watch?v=Qnsg58mOagg
PRESS: http://www.markmandeville.com/press.html

Download the Press Release:
https://docs.google.com/document/d/1QfyDkJohFfcI1izdhlJxOysx1GP8S8upg2lmexrYRaM/pub



American 'roots & branches' string-band Annalivia

American 'roots & branches' string-band Annalivia will be in Florida February 17-19.

Annalivia's latest release 'The Same Way Down' captures the bands' innate connection with American roots music. The album features traditional songs and fiddle tunes alongside stunning original pieces, presented with the bands' unique style and inspired arranging sensibilities. This album debuted at #7 on the international folk DJ charts, with 'False Sir John' reaching the #1 played song on folk radio worldwide, and the band #1 played artist in the Massachusetts RMR.

At the cutting edge of acoustic and traditional music, Annalivia fuses old and new world sounds to create an authentic new sound, both steeped in tradition and alive with new energy and innovation. The members of Annalivia– Liz Simmons, Flynn Cohen, and newest member Bronwyn Keith-Hynes– are all masterful players and have long histories with traditional music, ranging from bluegrass to Irish, Scottish, and Old Time Appalachian music. These styles play a large role in the interpretations of their material, which can range from an inventive, quirky original fiddle tune to a unique and invigorated arrangement of a traditional song. The members of Annalivia are all seasoned musicians and have toured with the likes of Cathie Ryan, Ruth Moody, John Whelan, Aoife Clancy and Adrienne Young, among others.

"Richly textured... Annalivia come across equally as slick as Alison Krauss and Union Station." Northern Sky Radio (UK)

"Beautiful vocal tones and masterful stringwork..." Cover Lay Down

www.annaliviamusic.com

Kindrede Spirits
My name is Keith Sheehan of the acoustic instrumental guitar duo, Kindrede Spirits. My wife Kathy and I are booking our schedule ahead for the next six to twelve months and would like to play your venue. We are from Portsmouth, NH and are looking to expand our fan base. Enclosed are two tracks from our 2011 debut album. We can be found on our website at kinredespirits.com. Also we are listed with the New England Folk Network, the New Hampshire Acoustic Music Association, Reverbnation, SoundCloud, Facebook and Twitter.
We look forward to hearing from you and hope you enjoy the music!
Sincerely,
Keith & Kathy Sheehan
Kindrede Spirits
603-501-0946
kinredespirits.com

Sara Hickman has general avails for the area for both the folk and children's show.
Sara Hickman Hear audio samples at: http://www.myspace.com/sarahick
Amanda Shaw Hear audio samples at:http://www.myspace.com/officialamandashaw
Sara Hickman Children's Show
Super Pal Universe Hear audio samples at:http://www.superpaluniverse.com
Joe Ferry & The Big Ska Band
Hear audio samples at: http://www.myspace.com/joeferrymusic

Agency Sites:
http://www.dahanagency.com
http://www.charliedahan.com
~~~~~~~~~~~~~~~~~~~~~~~~~~~~~~~~~~~~~~~~~~~~~~

William Florian

"Superb Musical Performance" Formerly of The New Christy Minstrels,This Land Is Your Land An upbeat, energetic,

musical journey of Americas greatest songs of the 60's including songs he performed as a lead singer of the famous New Christy Minstrels plus the music of Peter Paul & Mary, John Denver, others, and uplifting Vision Folk originals, presented with amusing stories in an intimate, heart warming show. Seniors love this show! William

Florian

www.florianmusic.com 707-524-7898william@florianmusic.comSolo

or with band

~~~~~~~~~~~~~~~~~~~~~~~~~~~~~~~~~~~~~~~~~~~~~~~~~~~~~~~~~~~~~~~~

JimmyCrowleyhas been a central figure in the Irish folkscene since the enthusiastic reception of his debut album The Boys of Fairhill in 1977. With his band Stokers Lodge their mission was to present the street ballads of Cork city complimented by the ornate folk songs of the rural hinterland of Cork and Kerry in an exciting orchestration of uileann pipes, concertina, autoharp, harmonium, mandolin, bouzouki and guitar in their native accent.The second album, Camphouse Ballads hurtled the band into the vortex of the folk scene; they were now performing at folk festivals and making tv appearances in Ireland, Britain and America .Both albums were produced by Micheál Ó Dómhnaill of the Bothy Band. Like Chris Twomey of Stokers Lodge, Micheál was a seminal influence in Jimmy's musical education. Every Jimmy Crowley album after the demise of Stokers Lodge in the middle eighties has been imbued with an excitment and autonomy; has challenged conventions and has been totally different from it's predessesor. Somethings Never Change, an eclectic, electric experiment featuring some of the most creative musicians in Ireland: Declan Sinnott, Keith Mc Donald and Christy Moore of Moving Hearts was applauded and voted album of the year by rock critic, Bill Graham.Jimmy's new band, The Electic Band released a reggae version of the Cork ballad, The Boys of Fairhill which went into the pop charts. In between recording and writing his own songs, Crowley found time to taste the rich Gaelic hinterland of his native provence of Munster learning his profession as a bard and falling in love with the Irish language.The songs he learned in the Irish speaking parts of Munster found a hearth in his first Irish language album, Jimí Mo Mhíle Stór, produced by Dónal Lunny for Gael Linn records. There followed a bitter-sweet amalgam of caustic urban ballads and sentimental parlour songs which Crowley had began to endorse. The album simply called,Jimmy Crowley for K-tel records was produced by Declan Sinnott.Crowley's fascination with the theatre and in particular musical drama culminated in the ballad opera, Red Patriots.Set against the backdrop of Mao Tse Tung's cultural and social policies,it's the story of an apprentice musician who falls for a revolutionary girl.Actual events such as the mob-incited burning of the Marxist bookshop in Cork city in the early seventies induce fierce realism. The play was well received and ran successfully at the Triskil Arts Centre in Cork City. By now Jimmy Crowley had established himself not just as a traditon bearer, ethnographer and Gaelic language enthusiast but also as a stylish songwriter. His song about the sailing ship Asgard, My Love is a Tall Ship, was adopted as an athem for sailors everywhere and was used in the documentary film on the Tall Ships' Race made by the National Television Station in Ireland. The eponomous album that followed presented all original songs couched in small string orchestra ,subtle rhythm section and songwriter Dave Murphy's piano skills.Her Excelency, Mary Robinson was the subject of the quazi-bassanova style skit, Mrs President which finally proclaimed to those who pidgeon-holed Crowley as being the "voice of Cork" and nothing else,that there was much more to this man. Depressed at the demise of the Irish language and Celtic traditions and the endorsement by the Irish government of cultural globalisation, Crowley began work on his Celtic Utopian novel, Hy Brazil. Its the story of a new resurrgence and autonomy set slightly in the future; exorting Plato's Rule of the Wise and it's a poetical,didactic dismissal of everything the Celtic Tiger stands for. There followed his first live solo album, Uncorked and the establishment of his own record company, Freestate Records. The Coast of Malibar endorsed both his love for the sea and sailing and his affection for the double-string instruments like bouzouki, mando-cello, dordán, mandola and mandolin. Jimmy is joined here by an old friend, Tríona Ní Dhómhnaill of the Bothy Band .His new album, Irish Eyes, is a swing-jazz reverential treatment of old John Mc Cormack,Bing Crosby and Flanaghan Brothers Irish-American sentimental songs which Crowley feels are part ot the legitimate legacy of Irish song. Here he breathes fresh life into old chesnuts like Danny Boy and When Irish Eyes are Smiling and displays creditable crooning skills. Almost all of Crowley's older vinyl albums have now been digitally remastered and Freestate present an excellent catalogue of his albums.Jimmy now lives in Dunedin,near Clearwater, Florida.

~~~~~~~~~~~~~~~~~~~~~~~~~~~~~~~~~~~~~~~~~~~~~~~~~~~~~~~~~~~~~~~~~~~~~~~

The Pleasant Family Old Time String Band consists of five members who play the "old time" music that formed the roots of today's bluegrass music. Although the members are not related, and not always pleasant, we are friends
keeping alive the tradition of the family band. We come together from various parts of Central Florida ranging from Orlando to
Clearwater to Bradenton. Our credits include the Florida Old Time Music Championship (first place in 2005), the Florida State
Fair in Cracker Country now in our fourth year, a private concert for former President Jimmy Carter, and a range of venues
including library concerts, town festivals, trailer parks, farmer's markets. We have even played for a wedding but so far no
funerals. Our recorded repertoire consists of nearly 60 tunes, vocal and instrumental, on three CD's.
You can learn more about us and hear some samples of our music on our web site: www.thepleasantfamily.com.
~~~~~~~~~~~~~~~~~~~~~~~~~~~~~~~~~~~~~~~~~~~~~~~~~~~~~~~~~~~~~~~

Hi Folks,
Ireland's No. 1 Ballad and Folk Group (8 Gold Albums), "The Dublin City Ramblers" and the legendary Southern Rockers, "The Winters Brothers Band" have decided to join forces to present an amazing and unique duel cultural concert presentation. "THE HERITAGE CONCERT." Since American Country Music and Southern Rock and Roll evolved from Irish Music the two bands decided to tell this historic tale in a 2 1/2 to 3 hour concert. The format is as follows:
Set one: "Dublin City Ramblers" perform 45 minutes of Irish Music and stories.
Set two: "The Winters Brothers Band" perform 45 minutes of Southern Rock and Roll and tell stories about their music and the influence Irish Music had on them.
Set three: Both bands on stage alternating songs and stories (45 to 60 minutes). Both bands play a couple of each others songs in their own style.
www.dublincityramblers.com. www.wintersbrothersband.com.
Anyone interested in booking this unique cultural experience please contact me.
John Ryan, Manager
"Dublin City Ramblers"
407 252 6403 (U.S. Cell)
www.dublincityramblers.com

~~~~~~~~~~~~~~~~~~~~~~~~~~~~~~~~~~~~~~~~~~~~~~~~~~~~~~~~~~~~~~~~~~~

Mountain Brew--Andy Burr on guitar, harmonica, and vocals; Sara Burr on mandolin (or as a trio with fiddle or a full band with bass and drums). Specializing in Americana music--folk, bluegrass, country, Cajun--but can also include mellow pop and rock standards, reggae, and Irish/Celtic. Many performances at Central Florida nightclubs and at events statewide-- including 3 years seasonally at Cypress Gardens
and 4 years of holiday shows at Silver Springs. Performed 3 shows daily at the South Florida Fair in West Palm Beach Jan. 23- Feb 1, 2009; recently played at Art Festivals or community events in Maitland, Lake Mary, Winter Park, Dade City, Winter Garden, Eustis, and Ocala. Please visit the website--www.MountainBrew.net --for past and present schedule and to hear music samples.

~~~~~~~~~~~~~~~~~~~~~~~~~~~~~~~~~~~~~~~~~~~~~~~~~~~~~~~~~~~~~~~~~~~~~~~~~

The Porchdogs--two to five members specializing since 1992 inLouisiana Cajun and zydeco, plus bluegrass, country, folk, and standards. Many corporate and theme park engagements; booked nearly every day the past 10 years during Bike Week and Biketoberfest at the Iron Horse Saloon in Ormond Beach; booked all 12 days 5 of the past 7 years at the Florida State Fair in Tampa.

www.porchdogs.net,www.theporchdogs.com
~~~~~~~~~~~~~~~~~~~~~~~~~~~~~~~~~~~~~~~~~~~~~~~~~~~~~~~~~~~~~~~~~~~~~~~~~~~~

` The Village Folk Revival

Ron, Dick, & Rick

Folk, Bluegrass, Folk Rock, and Irish Music from it's heyday to today. The Village Folk Revival covers the folk music scene from The Kingston Trio to John Denver, from Woody Guthrie to James Taylor. Irish, Scotch, and English music is also included from The Clancy Brothers, to Christy Moore, to The High Kings.

With a mix of vocal harmonies and a variety of instruments, The Village Folk Revival brings a unique style to the standards and contemporaries alike while throwing in a smattering of humor for good measure.

If you are in need of a group to play for your Resort, Club, Convention, Festival, Social Gathering, Party, or Whatever. The Village Folk Revival will meet your needs and exceed you expectations.

For booking information contact Ron Hite at 352-259-4479 (H), 352-454-6223 (C), ronhite@embarqmail.com,

or visit our web page at: www.villagefolk.net

~~~~~~~~~~~~~~~~~~~~~~~~~~~~~~~~~~~~~~~~~~~~~~~~~~~~~~~~~~~~~~~~~~~~~~~

STEVE STERNBERG – BARRELHOUSE
& NEO-CLASSICAL PIANIST

"Talented, eclectic and absolutely fun. What an impressive performer!"

Sally Anderson, House Concert Presenter

Tallahasee, Florida pianist and composer Steve Sternberg will capture you with his energetic, playful and moving piano music. He plays the old obscure covers and his contemporary originals. You'll hear boogie-woogie from the 20'and 30's and ragtime, as well as original blues, pop and classical. In 2002 Sternberg won a Best New Florida Song award with his "Apalachicola Blues."

As a solo artist Steve Sternberg has been entertaining audiences from ages 3 to 103 throughout Florida since 1989. He is loved for his versatility and for his upbeat, informative rapport with his listeners. By popular demand Steve has been a regular performer at the Florida Folk Festival, the nation's largest and oldest folk fest, for eight years. In the past few years Sternberg has performed in house concerts in Tallahassee, Gainesville, Jacksonville, Tampa, Winter Haven and Boca Raton.

Sternberg has released three CDs. His compositions "Apalachicola Blues" and "Forgotten Coast Blues" are part of the soundtrack for the documentary "Apalachicola, Our Town" which aired on WFSU-TV in 2004 in the Tallahassee area. ON WFSU's local music series "Outloud," the shows featuring Steve's solo work and his duo with singer Mollie Lynne get regular airings as some of the most popular shows.

Please check out www.stevesternberg.com to view his active playing schedule, photos, to hear music samples and more. Steve is open for bookings across Florida on Fridays through Sundays. At the venue he prefers a good baby grand or upright, but can bring his keyboard if necessary. Contact piano214@hotmail.com or 850-893-4219 or 850-320-0010(cell).

~~~~~~~~~~~~~~~~~~~~~~~~~~~~~~~~~~~~~~~~~~~~~~~~~~~~~~~~~~~~~~~~~

Richard Brobst is a singer/songwriter whose latest cd--MIGHT BE TODAY--has just been released by KMA Records in Nashville. Richards lyrics are a combination of Americana, folk and country. Keith Bradford, from The Nashville Broadcasting Radio Network, called them "Americountry." One of Richard's songs, "Sometimes the Moon," recently ranked in the Soundclick top 100. To sample Richard's cd, you can go to Soundclicks.com/Richard Brobst. Richard is available for house parties and special events. Ph. (941) 475-4300 or email bthedance@aol.com

~~~~~~~~~~~~~~~~~~~~~~~~~~~~~~~~~~~~~~~~~~~~~~~~~~~~~~~~~~~~~~~~~~

Geoff Kaufman

For the past thirty years, Geoff Kaufman has been leading audiences to find truth, humor and beauty in folk music.
Whether singing sailor songs at Mystic Seaport in Connecticut or environmental songs on board the Sloop Clearwater in
the Hudson River; or in solo performances at coffeehouses throughout the U. S. to festivals in Europe, Geoff has entertained and touched audiences near and far.

Songs of the sea, songs of the earth, songs of the heart and the spirit - all of these are in Geoff Kaufman's ditty bag. Ancient ballads, work songs and songs of love; poignant songs of people in struggle, humorous glimpses of human foibles and insights into history. All of these are likely to be woven into one of Geoff's concerts.

Above all, at the core of Geoff's performance is his rich tenor voice, and an exuberant love of singing.
And part of that love is to entice audiences to sing along, to share in the exhilaration of full-throated vocalization if they wish. In this age of electronic overload and passive media pabulum, Geoff likes to stress the "live" in live performance, promoting participation, be it by voice or heart or mind.

~~~~~~~~~~~~~~~~~~~~~~~~~~~~~~~~~~~~~~~~~~~~~~~~~~~~~~~~~~~~~~~~~~~

Adam Miller
Folksinger, Storyteller and Autoharp Virtuoso
P.O. Box 951
Drain, OR 97435
(650) 804-2049
autoharper@earthlink.net
Folksinging.org
Please contact ADAM to schedule a performance, house concert, or workshop

"One of the great autoharpists and folksingers of our times."
- George Winston

"Adam's voice and autoharp weave a melodious tapestry...
and he has a perfect cowboy out-on-the-range voice…"
- Bluegrass Breakdown

"An outstanding slice of American folk songs performed
with his perfectly suited voice and tasty autoharp accompaniment...
There's not a bad effort on this entire recording - it is thoroughly
enjoyable from start to finish.…"
- Keith Anglemyer, Walnut Valley Festival, Winfield, KS

"A true slice of Americana."
- Autoharp Quarterly

"I've heard great autoharp playing - before, Mike Seeger and
Bryan Bowers being the most impressive. But you've taken
the autoharp beyond the beyond. I never expected to hear
O'Carolan and ragtime on the autoharp, and with such
dynamic nuance and subtlety of expression. This CD will
inspire not only autoharp players, but anyone who loves
traditional melodies."
- Holly Tannen, Mistress of Folklore

"Simply put, Adam Miller shows even the best autoharpists
brand new things. This is an important album for anybody
wanting to learn what the autoharp can accomplish."
- David Van Syoc

"This is a fellow who can really play the autoharp, a rare talent."
-Phil Shapiro, Bound For Glory, WVBR fm, Ithaca, NY

"Awesome fingernails!"
-Paul Stamler, No Time To Tarry, KDHX fm, St. Louis, MO

"Master of the autoharp!"
- Maine Things Considered

"You're doing a real service for folk music."
- Frank Hamilton

"His autoharp playing is superb and imaginative."
- San Francisco Folknik

~~~~~~~~~~~~~~~~~~~~~~~~~~~~~~~~~~~~~~~~~~~~~~~~~~~~~~~
Here is where you can find Florida Folk Teachers!

North Florida

Daytona Beach
Jesse Sam Owens- 904.258.2246; jessesamowens@aol.com flat-pick guitar.

Deland

Bill Perras- 386.734.9761; bluesgotus@cfl.rr.com http://www.geocities.com/bluesgotus guitar- beginner, intermediate finger picked

Julian Lambertson, 386-801-6288, http://www.greenstringmusiclessons.com, jll@greenstringmusiclessons.com, fiddle - Beginner - Advanced Traditional, Irish Fiddle, Beginner - Intermediate Old Time Fiddle

Gainesville

Art Crummer- 352.371.0942; artcrummer@bellsouth.net Dobro & guitar, all levels

Tammy Murray- 352-262-3218; tammyannmurray@hotmail.com banjo, fiddle, hammered dulcimer, lap dulcimer, mandolin, guitar, ukulele.

Lisa Martin- 352-371-3249 klez24@yahoo.com Celtic harp

Jacksonville

Jerry Carris- 904.771.1374; jcgangfla@comcast.net swing guitar, flat-picking guitar- serious students only. Must be able to read music

David Milam Guitars United 904.268.0338 david@davidmilam.com finger style guitar

Robin Plitt- Home- 904.733.5487 Cell- 904.486.0848 plittr@bellsouth.net guitar all levels, specializing in finger style.

Lynn Wadley- 904.268.1771; lwadley@comcast.net Mountain dulcimer, beginner hammer dulcimer, beginner autoharp for singing

Monticello

June & Gordon Scott http://gordonsstringmusic.com/ fiddleteachers@gordonsstringmusic.com 850-997-3453 hm; 850-386-7784 wk; 850-567-8026 cell, Gordon plays: banjo, tenor banjo, guitar, mandolin, dobro. Jane plays: fiddle, piano, guitar, mandolin. They perform at old time dances as Greasy String Band and also perform bluegrass as Monroe St Band.

Tallahassee

Carrie Hamby- 850.222.9693; clhamby@aol.com ; http://www.singingbiscuit.com guitar, mandolin, bass, accordian, piano, voice.

Mary Z Cox- mary@maryzcox.com; http://www.maryzcox.com Clawhammer banjo, mt. dulcimer (workshops, camps, festivals) See website for dates.

Steve Sternberg - 850-893-4219; piano214@hotmail.com; http://www.stevesternberg.com; Piano, saxophone, flute, harmonica


West Central Florida

Belleair Bluffs

Doris Sotirellis- 727.599.1427. doris@clearwaterconnection.com http://www.clearwaterconnection.com ;Bass

Bradenton

Evelyn Janaro- 941.746.0269. Evedesoto@aol.com Lap Dulcimer, beginner to advanced

John Botts- 941.929.9526;cell- 941-587-9916 jbotts99@aol.com http://www.johnbotts.com All levels of guitar, piano, bass guitar, mandolin. Instruction in music theory, composition, songwriting, alternate guitar tunings, solo fingerstyle guitar. Ages 8 to ageless

Bradenton Beach

Scott Blum- 941.778.0392; drumbunny@aol.com http://www.scottblummusic.com Drum Set, Congas, Bongos, Timbales, & Hand Percussion Instruments All Levels

Clearwater

Susan Boyer Haley- 727.669.9286; sbhaleyfl@yahoo.com beginner & intermed, lap dulcimer, guitar, psaltery

Bill Hansen- 727.599.1427. doris@clearwaterconnection.com http://www.clearwaterconnection.com lead guitar, theory

Ft Myers / Lehigh Acres

Joyce Waltman- 239.369.7992; musicianjoy@hotmail.com lap dulcimer all levels, beginning fiddle/violin, bowed psaltery

Gail Keel- 239.694.6123; s.g.keel@att.net beginner concertina, beginner piano, beginner accordion

Inverness

Richard Gilewitz- 352.860.2422 contact@richardgilewitz.com; http://www.richardgilewitz.com 6 & 12 string guitar, classical guitar, finger style, picking patterns, composition & sight reading, standard & open tunings

Largo

Charley Groth- 727.585.5678; http://www.cgmusicman.com/ guitar, mandolin, piano, autoharp, Dobro, banjo, music theory, songwriting

Michael Godwin- 727.517.2165 Modern Music Workshops guitar- all levels-, gypsy jazz, blues, & Tony Rice style

Lutz

Joe Reina-, 813-920-2651, jreina@tampabay.rr.com , harmonica

New Port Richey

Spencer Whittington- 727.505.4190 swhitti3@tampabay.rr.com http://www.teachlist.com Hammer Dulcimer All Levels

Palm Harbor

Elan Chalford- 727.938.1417; chalford@earthlink.net http://www.fiddleguru.com fiddle all levels

San Antonio

Rochelle Morris- 352.588.4803; rochelle@coffeetalkcafe.net Harmonizing

Sarasota

Ishmael Katz- 941.366.1423; ishguitar@yahoo.com, http://www.ishmaelkatz.com guitar, mandolin, lap dulcimer, songwriting, basic harmonica, banjo, voice, ukulele and bass

Elaine Silver- 941.954.4312; elaine@elainesilver.net; http://www.elainesilver.com clawhammer banjo all levels

Al Fuller- 941.918.8230, pendrift@juno.com, http://www.alfuller.net guitar, any style, any level, harmonica any level, mandolin and banjo up to intermediate levels.

Tony Horowitz: 941-358-8249, tonygh@highstream.net Recorder, all levels; folk and classical

Spring Hill

Ken & Trisha Brooks- 352-610-4341; http://www.strumhollow.com flat pick guitar, mandolin, fiddle, old-time banjo, Dobro, lap dulcimer, bass

St Petersburg

Charles Jones- 727.344.2926 (no email) guitar, Dobro, mandolin

Virginia Thompson- 727.576.0166 www.thompsonsmusic.com Thompson's Music 321 A Southeast Blvd. Music Lessons and Classes Join the "Campfire Fiddlers" every Friday night at 7:30 p.m.

Tampa

Cheryl Belanger- 813.920.5372; simplegifts@verizon.net autoharp

Ray Belanger- 813.920.8773; simplegifts@verizon.net hammered dulcimer

Jeff Jones - 813-817-4970; jeff@bluegrassparlor.com; www.bluegrassparlor.com; Banjo(3 finger style), Mandolin, Guitar, Dobro, Fiddle, Bass

Kathie Aagaard- 813.234.0500 (no email) Fiddle

Venice

Richard Brobst- 941.408.9515 bthedance@aol.com bluegrass, old time, fiddle tunes, folk, flat picking: beginners through advanced.

Bud Buckley,-941-284-7779. http://www.budbuckley.com Acoustic Guitar, beginning harmonica & beginning voice, songwriting, music theory. All levels and ages. Folk, folk/rock, popular, classic pop/rock, beginning classical. Will adapt to every learning style.

Wesley Chapel

Lori Pegram – 812.994.7759 banjolulu@verizon.net banjo


East Central Florida

Enterprise (near Deltona, Volusia County)

Katie Waller - 386-212-2428 folkfiddle@gmail.com www.folkfiddle.com I don't teach lessons but do enjoy teaching fiddle workshops: Beginning - Advanced and "How to 'Fiddlize' a Tune" and "Making Waltzes from Fiddle Tunes."

Inverness

Richard Gilewitz, http://wwwrichardgilewitz.com, contact@richagilewitz.com 6 and 12 string guitar, classical guitar, finger style, composition, sight reading standard and opening tunings

Longwood

Allen Eisenman-407.332.8921 pcsvc@cfl.rr.com beginner, intermediate fiddle, banjo, mandolin, all styles of bluegrass, & How to Play with a Band

Melbourne

Norman Rodham 518.334.1503 rodhamnc@hotmail.com 6 and 12 string guitar, all levels- children & adults- fingerstyle, blues & celtic back-up Celtic percussion- bodhran & bones

Robin Osgood 518.316.1256 robinfiddler@musician.org http://www.twinklersroadtobach.com Celtic & American old time fiddle, all levels- children and adults, Beginning folk cello

Orlando

Tina Larkin- 352-787-3127 (no email) Celtic harp, authentic Irish fiddling. Hear her at http://fortuityduo.com

David Roberts- 352-787-3127; fiddling. Hear him at http://fortuityduo.com

Port St Lucie

Joette Giorgis - Port St Lucie - 772-905-8156; joettestrings@gmail.com, classical and fingerstyle acoustic guitar; Suzuki Guitar for children age 4 and up, http://www.joettestrings.com/

Sorrento

Ruth Harnden-352-735-4907 dulcirah@msn.com Mountain Dulcimer Beginning-Intermediate. Also teach 4 equidistant strings

St Cloud

Bob Taylor- 407-369-9786 or cell 561-756-1442groundspeed@aol.com 5 String Banjo, teaches solid Earl Scruggs Style picking. No frailing, No clawhammer and No old time, just solid Earl Scruggs style picking. Serious students only. If you want to learn the correct way to play the banjo Scruggs Style call Bob Taylor, The original Scruggs style banjo picker and founder of Groundspeed Bluegrass since 1994

Winter Garden

Dominic Gaudious - 407.656.9254; Lessons@DominicGaudious.com Guitar, all styles all levels. http://www.dominicgaudious.com

Winter Haven

Sally Anderson- 863.293.1510; sandhd@verizon.net hammered dulcimer

Winter Park

Sharon Hartmann- 407-325-7787 Fiddlecat31@aol.com fiddle

Winter Springs

Stan Geberer- 407.644.5493; sgeberer@aol.com Harmonica


South Florida

Boca Raton

Lara Gallichio- 561.392.3396; voxxlane@aol.com vocal coaching, & voice performance, percussion

Bob Taylor- 407-369-9786 or cell 561-756-1442. groundspeed@aol.com 5 String Banjo, teaches solid Earl Scruggs Style picking. No frailing, No clawhammer and No old time, just solid Earl Scruggs style picking. Serious students only. If you want to learn the correct way to play the banjo Scruggs Style call Bob Taylor, The original Scruggs style banjo picker and founder of Groundspeed Bluegrass since 1994


Fort Lauderdale

Armando Zuppa at Penny Lane Music Emporium, Ft Lauderdale, specialize in folk instruments (guitar, banjo, mandolin, uke). Contact Armando Zuppa at Penny Lane Music Emporium: http://www.pennylaneemporium.com/LESSONS.html

Hollywood

Matthew Sabatella - Hollywood (South Florida). Teaching banjo - old-time styles including clawhammer and 2-finger. Phone 305-753-1850, info@balladofamerica.com., http://www.balladofamerica.com

Islamorada (in the Keys)

Dave Feder- 305.852.6331; davjazzdog@aol.com http://www.davidfeder.com;
http://www.hillbilly.flamenco.com ; fingerstyle guitar

Jupiter

Vicki Silver- 561.746.1465; vsilveraicp@yahoo.com beginner fiddle

David Jakubiak- 561.309.8616; david@fretmentor.com http://www.fretmentor.com Guitar all styles- blues, bluegrass, flatpick, fingerpick, jazz & classical Banjo- 5 string- Scruggs, melodic, Don Reno. & others Mandolin, various styles Instructional CDs for sale & lessons emphasize theory & chord construction

Pamela Davis- 561.512.9583; sound@fields.net http://www.sound.fields.net Voice Lessons Vocal Coaching, Electric & Acoustic Guitar Lessons, Piano/Keyboards Lessons, Bass Guitar Lessons, Songwriting / Composition, MIDI & Computer Technology, Ukulele Lessons, Mandolin Lessons, Celtic Bouzouki, Octave mandolin

Lake Worth

Tony Arcaro- lindatony@msn.com; http://tony.itroubador.com 561-585-7198 5-string, tenor & plectrum banjo, acoustic guitar, mandolin, piano accordion

Miami

Deborah Chupp- tdchupp@msn.com, beginning hammered dulcimer

Pompano Beach

John Amon- 954.943.6047 harperjohn2001@yahoo.com autoharp, and piano accordion

West Palm Beach

Sandra Marchman-561.683.3563 or 346.3983; chromatic harp,(autoharp); beginner piano, voice

For additions and corrections send information to news@foff.org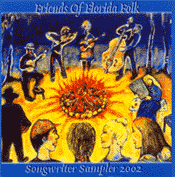 Friends of Florida Folk, Inc
Songwriter Sampler 2002


Announcing the first FOFF Folk CD Sampler
Some of Florida's finest songwriters have contributed
to help make this CD.
See below for the list of contributors!
What a perfect way to own a sampling of many of
our favorite songwriters!

1) Amy Carol Webb - "I Come From Women" 5:32
2) Mindy Simmons - "I Didn't mean It, Don't Get It" 5:04
3) Bob Rafkin - "Somethin' Wrong is Goin' On" 4:26
4) Marie Nofsinger - "I Am Blue" 3:57
5) Ashley Gang - "The creek" 4:33
6) Cyd Ward - "What's It Like In Maine" 4:22
7) Lon Williamson - "Meet Me In St. Augustine" 3:48
8) Del Suggs - "Break In The Weather" 3.33
9) Ron & Bari 's- Roadside Revue ."Getting Out Of Town" 3:10
10) Jon Semmes and The Florida Friends. -"Florida Man"3:41
11) Joey Errigo - "Paradise Motel" 3.52
12) Grant Livingston - "Let Me off The Leash" 3.36
13) Michelle Morrisette - "Wings To Fly" 3:20
14) Ken Skeens - "In The Name of God" 4:58
15) James Hawkins - "Swept Away" 3:40
Copyright@ 2002
All Rights Reserved.
Cover art by
Joey Errigo

ORDER CD:
CD is $10 each with shipping and handling $2.50 per unit.
Mail your check or money order to:
Margaret Lewis
Friends of Florida Folk, Inc.
FOFF CD Sampler
4411 Bee Ridge Rd PMB 281
Sarasota, FL 34233
This information is maintained by Jean Hewitt
AREA

CITY

CONTACT

north

Gainesville

Resource, WUFT/WJUF FM Radio, Radio Bill Beckett, Program Director, 352-372-6516 ext 1119, fax 352-392-5741, bbeckett@wuft.org

north

Ormond

Florida Folk Music/Ormond Area House Concert Series, Chuck Spano, 386-672-4533, Fax 386-672-9214, yoda2@bellsouth.net, www.floridafolkmusic.org

north

St. Augustine

Bob Patterson, Gamble Rogers Folk Festival & The Music for the Birds Concert (a benefit for the Hawke Wildlife Foundation) 904-797-5262, lugin@aug.com

centrl

Eustis

Joe & Mary Ramirez, Eustis Women's Club, Lake Eustis Folk House Concerts, third Sat of each month. 352-253-6448 madaba@comcast.net PO Box1964, Eustis, FL 32727

centrl

Mount Dora/Eustis/Deland

Rich Pietrzak,independent presenter
352-385-0449, rapietrzak@hotmail.com

centrl

Orlando

Leu Gardens, Barry Brogan, 321-264-0678, cffi@bellsouth.net or Doug Spears, dcsnole@yahoo.com

centrl

Orlando

Langford Park, Barry Brogan, 321-264-0678, cffi@bellsouth.net

centrl

Orlando

House Concert contact , Barry Brogan, 321-264-0678, cffi@bellsouth.net

centrl e

Winter Haven

Lakeside Music Room House Concerts - Sally Anderson, 863-293-1510 sandhd@verizon.net.

centrl e

Melbourne

Jack Garrison, WFIT DJ books artists for his radio show and Cafe Stella Blue in Melbourne, 321-259-4000, sandmanradio@cfl.rr.com

centrl w

Sarasota

Old Packinghouse Cafe , ask for J.R., 941-371-9358. www.oldpackinghousecafe.com

centrl w

Sarasota

Mothers Musical Bakery - 941-922-4322 Dennis Brock. www.mothersmusicalbakery.com

centrl w

Sarasota

Sailing Squadron Concerts, Jean Hewitt, 941-377-9256, jvhewitt@pobox.com. (Sarasota Folk Club, www.sarafolk.org) Booked one year or more ahead

centrl w

Tampa Bay area

Resource, WMNF Radio, Randy Wynne, Program Director, 813-238-8001, rwynne@wmnf.org. Bill Dudley does a Live Music Showcase from 9-10 am every Friday

centrl w

Tampa Bay area

UU Dome & TAFEE Concert Series, Gloria Holloway, 813-837-6572, gshello@tampabay.rr.com

centrl w

Tampa Bay area, Seminole

"Our Kind of Folk" House Concert series, Craig Huegel, Seminole, FL ,
727-595-4714 , Huegelc55@aol.com

centrl w

Tampa Bay area

Tampa Area Promoter. Rich Party Productions. Ryan Rich at richparty@gmail.com

centrl w

Tarpon Springs

Performing Art Center or Tarpon Springs Cultural Center, Michael Raysses, kmonahan@ci.tarpon-springs.fl.us, 727-938-1915, www.ci.tarpon-springs.fl.us/cultural_center.htm

centrl w

Treasure Island

Ka'Tiki Hut, Fred Stern, owner, 727-360-2272, sunsetbeachpete@hotmail.com

centrl

Lecanto

Woodview CoffeeHouse, 2628 Woodview Lane, Jim Davis,352-726-9814, jimandnadia@embarqmail.com


south

Ft.Lauderdale

Broward Folk Club & S. FL Folk Festival, Arlene Boumel- www.myspace.com/kolishamusic

south

Ft.Lauderdale

Labyrinth Cafe at UU Church, Susan Moss  ozwoman3210@aol.com

south

Ft.Lauderdale area

Bukstel House Concerts, Ellen Bukstel, 954-880-0250, ellen@bukstel.com

south

Ft. Myers

Sweet Bean Café, Mike Burns, 239-275-9000, sbcafe@aol.com

south

Tamarac

Singer Concert Series, Bob Singer, 954-484-7444, bob@SingerFolkMusic.com

south

Miami

Resource, WLRN radio, Michael Stock, 305-995-2264, mstock@wlrn.org

south

Miami

Folk Club of South Florida, Val Caracappa, 305-891-3528, valcara@bellsouth.net

south

Ft Lauderdale area

(Coral Springs)

Boumel House Concerts  954.341.0086

aboumel@bellsouth.net

south

Miami (Kendall)

House Concerts, Ronnie & Barry White, 305-251-1960, bwtamia@bellsouth.net

south

W. Palm Beach

Palm Beach County Folk Club, Bill Messer, 561-588-4775,
iapladders@earthlink.net, John Kalgert, 561-582-7022



---

The Florida Folklife Collection houses more than 5,000 audio records which cover a wide range of material, including public musical performances, fieldwork recordings and over fifty years of the Florida Folk Festival. Descriptions of these recordings can be found in our searchable databasedatabase. MP3 files for festivals from 1954 through 1979 are available online. Below are links to samples of the many sounds in the collection.

Featuring 2,927 Audio Recordings from the Florida Folklife Collection including interviews, field recordings and performances at the Florida Folk Festival dating back to 1954. The State Archives of Florida houses thousands of unique sound recordings currently undergoing digitization; highlights from these efforts are available on this page as sampler CDs, podcasts, and MP3s

https://www.floridamemory.com/audio/
Podcasts of "Mellow Melodies" featuring Florida Folk Artists!
Contacting FOFF
Friends of Florida Folk is a network of kindred spirits who participate in one way or another with the folk process. You can get involved at whatever level you want. Return and visit our web site, Join FOFF, get the Newsletter, attend one of the many sessions and festivals throughout the state, or volunteer to help at the next festival or get-together.


Additional outside Resources and Links are
available under More Info Menu.
Be sure to come by and visit us at the FOFF
booth at Festivals throughout Florida
Contact Information
Statewide Calendar Listing and
Recurring Eventssubmissions:
news@foff.org.
Articles, photos, ads, etc for eZine and Website
Membership Director:
Margaret Lewis
4411 Bee Ridge Rd, PMB 281,
Sarasota, FL 34233
941.378.3553
mmlewis@comcast.net
Website liaison:
Gary Fuller
garyfuller@verizon.net
Other Contact people:
FOFF BOOTH manager:
Goody Haines
goodysmusic@yahoo.com
Asst mgr: Jean Hewitt
941.377.9256
jvhewitt2@gmail.com


Tampa Bay Event Committee:
4438 Ohio Ave, Tampa FL 33616-1012