Grant Peeples 2011 release, Okra and Ecclesiastes,
has made the Americana Music Association?s Top 100 Albums of 2011.
Here's a link to see the list in full:
http://www.americanamusic.org
Click on the Americana Top 100 button, and open the file.
In addition, the record was named to Taproot Radio?s Best of 2011, www.taprootradio.com , WMBR (Cambridge, MA) Lost Highway Top 20, and WMNF(Tampa) Cameron Dilley Best of 2011.
Sea-Blues Festival
Get ready to satisfy your seafood cravings with the Knology Clearwater Sea-Blues Festival! While you're at it, allow your ears to enjoy some of the best blues music around. It's coming February 2012, so be sure to visit Coachman Park for this two-day festival on Saturday February 18th starting at 12:00 pm & Sunday the 19th starting at 1:00 pm. Free Admission Read More.....
The Bullard Brothers speak about the
History of the Florida Folk Festival at
the Stephen Foster Folk Culture Center
State Park. J Lawrence Bullard, Johnny
Bullard and Kerry Waldron. J Lawrence
Bullard talks about the Citizen Support
Organization (CSO)






The Bullard Brothers speak about the History of the Florida Folk Festival
at the Stephen Foster Folk Culture Center State Park. J Lawrence Bullard,
Johnny Bullard and Kerry Waldron.
J Lawrence Bullard talks about the Citizen Support Organization (CSO)
activity for the Florida Folk Festival at the Stephen Foster Folk
Culture Center State Park.
The Bullard Brothers perform at the Jan 2012 FOFF Fest.


J Lawrence Bullard, Johnny Bullard and Kerry Waldron.

THE FIRST GLOBAL JUKEBOX RELEASES
COMMEMORATE ALAN LOMAX'S "SOUTHERN JOURNEY"Global Jukebox
's first releases commemorate the 50th anniversary of Lomax's "Southern Journey" in the American South, the first stereo field recordings made of traditional music. The inaugural releases are: "Wave the Ocean, Wave the Sea";"Worried Now, Won't Be Worried Long"; "I'll Meet You On That Other Shore"; and "I'll Be So Glad When the Sun Goes Down." Compiled and annotated by
Nathan Salsburg
, the albums feature remastered audio from transfers of the original tapes, and include considerable previously unreleased material and extensive booklets of photos and notes.
In 1959 and 1960, at the height of the Folk Revival, Alan Lomax ventured through the American South to document its still thriving vernacular musical culture. He traveled through Virginia, Kentucky, Tennessee, Alabama, Mississippi, Arkansas, Georgia, and North Carolina, making over 70 hours of recordings. The trip came to be known as Lomax's "Southern Journey," and its recordings were first issued for the Atlantic and Prestige labels in the early '60s.
Read more ...
Cane Grinding and Cane Boil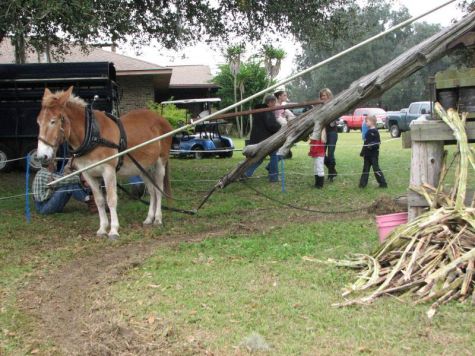 photography by Maggie Clark
Molly the mule was hard a work on the circle while the cane slowly grinde down. Nearby was a engine-powered grinder that worked even faster. Steve Melton explained, as Molly trudged along "This is how we used to do it in Florida."
We have lost a friend, WMNF-supporter and community activist,

Loren Westenberger (fondly known as Berger)

who passed away on a recent early Saturday morning, after attending the RiverHawk Music Festival in Dade City, Florida. He enthusiastically staffed the WMNF Outreach table all evening on Friday & stayed until 2 am, enjoying the company of friends by the campfire. He was found at his river property, where he planned to spend the night.

Services were held Saturday at 11am, 11/19/11 at The Unity Church of Clearwater, 2465 Nursery Road (Not the Unitarian Universalist Church/UU). There will be a pot luck celebration of his life following services at 2030 58th St N. in Clearwater, 33760. Please bring a dish to share.



On Sunday, 11/20/11, there was a Motorycle Run to spread his ashes at his river house and along the Ichetucknee River. Loren supported local festivals and help creat tree ordinance here in Tarpon Springs, meeting with then City Attorney John Hubbard to discuss the ordinance, presenting to the BOC about the importance of preserving our tree canopy, and the value of trees. He was a generous man who gave the City a gift of a Champion Buttonwood tree. Loren as also an excellent spoon player.
A Modest Proposal: Social Networking and You
Can we all work together and make the Folk/Americana music scene in Florida THAT much better ? Yes, I think we can. Lately, I've been doing some promotional stuff- web pages, posters, graphics, etc. for a number of different types of events:festivals, series, individual gigs, and benefits. I've added tearing my hair out to the list. (and I have a lot of hair) First, I would suggest that everyone get on the ReverbNation bandwagon and list your gigs with them.

Why Reverb ? In a completely unsophisticated survey, it seems that most of"us" are already using the service; if we all used it, it would be anawesome resource for Florida Music. It has all the bells and whistles that the cool kids are using: built in music players, EPKs, photos, ways to insert videos -everything that's pretty standard with these types of services. It will also sync with Twitter, Facebook, MySpace, and your blog (or you can blog on Reverb if you're so inclined). Reverb has an app to add new dates from your smart phone - you can check your calendar for availability, enter the new gig and immediately push the information to Facebook, Twitter and/or MySpace, amongst others.

ReverbNation also lists searchable opportunities: songwriting contests, festivals, etc., similar to the service offered by SonicBids. The other nice thing about Reverb ? You can join for free as a musician, a fan or a venue ! It has calendar search options so that you can see who is playing where and what venues are actually booking Folk music. Plus, you can create a store and sell song downloads or tshirts or coffee mugs, similar to Cafe Press, but right there, on your page, no cost to you. Of course they take a percentage, but do you really want to try to stock tshirts and keychains to sell on the road ? Secondly, Updates. We need updates. To draw a crowd which extends beyond our musical community, the audience needs to plan in advance. The earlier a schedule is announced, the better. "Performers to be announced" still posted the day before an event isn't going to draw many new people.

Yes, I do understand that most of our festivals and events are run by volunteers who are already overwhelmed. Volunteers are awesome. We just need a few more. So these two things would seem like criticisms or complaints, not solutions. The Solutions ? I would suggest that we get some volunteers together to help artists and event planners with these things on a statewide basis. I know of several of us who are computer savvy and I'm sure that there are more. Please feel free to contact me if you need some help or want to help. Really. I mean it. If I get more pleas for help than offers to help other people, this might be a slower process than one would prefer, but I am more than willing to help anyone with ReverbNation or Facebook.

If I get even one plea for help, I will do a screen capture, step-by-step downloadable PDF manual on how to use these resources and share it with anyone who needs it. As an aside, if you are actively using Facebook as a means of sending out information about gigs and festivals, I would recommend creating a "Page" not a "Group." You can't share a group with another group or another page. You can share a "Page" with anyone. (For example, The Sunshine State Music Fest FB Page: we shared it with St. Pete Folk Fest, with individuals, and with band pages. Each performer can then create an invitation from that page and invite their own fans to the fest, putting some of the onus on already hard working musicians, but also making it easier for them !)
Juju Julieanne Stevens 5709 15th Avenue South Gulfport, Florida 33707 727-345-4521 <http://www.danstevens.info/> logoforletterheadsm http://www.reverbnation.com/danstevenssongwriter
Gloria Holloway keeps us up on house concerts and other happenings in the Tampa
Bay area. Visit her blog for more information on some Bay Area events..
November 12, Saturday, Tallahassee


Southern Appalachian Fiddle and Banjo Music
by Alan Jabbour and Ken Perlman – two of the Nation's best. 
Held at the Unitarian-Universalist Church, 2810 North Meridian Rd. Doors open at 6:15 pm, concert at 7:00 pm.  
Tickets $12 in advance, $15 at the door.
For info contact hpardue@comcast.net or call.
Outdoor Festival encompassing bluegrass, country, old-time and jazz