Florida Folk Festival May 26 - 28
Florida Folk Festival
May 26 - 28, 2017
Just a gentle nudge to remind FOFF members that Woodview's doors open this Frida, May 9th at 6:30pm. This month we play host to the amazing Delta blues of WILLIE GREEN. Green hails from the Ocala and plays regularly at The Yearling Restaurant.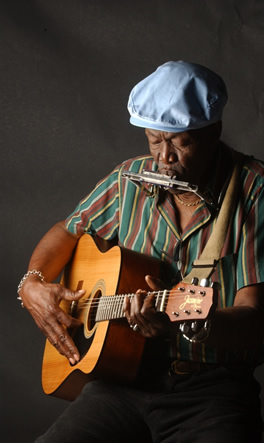 Opening the evening for Green will be Deland's "Blues Got Us". They are Bill and Eli Perras. Hailed by Sing Out! Magazine who write -- "Each song thoughtfully brings the human condition to light and most offer a silver lining, the possibility of change if we get off our butts and reach out to each other." Bill's immaculate guitar playing combines studied technique blended seamlessly with genuine blues sensibilities. Eli is a consummate singer who employs signing for the deaf with each song. This is an evening you won't want to miss.
Coming attractions –
A special "Concert on the Point" is scheduled for Friday, May 16th from 6 until 10pm on the point at the Port Hotel and Marina grounds . The music will be supplied by Florida folk artists – some of whom you have heard at Woodview. Tickets at $10 per person go to benefit the Three Sisters Fund. Light refreshments will be available to purchase. See LINDA MYERS at Woodview this Friday to purchase your tickets early. Bring lawn chairs for this event. For more information call Dee at 220-6058.
For the outdoor challenged or indoor oriented, also on May 16th NCUU's Friday Flicks will feature the film "Little Buddha". Keanu Reeves and Bridget Fonda star in this award winning film from Bertolucci. The film starts at 7pm with a cartoon short. A $3 donation is requested.
On May 23,24,& 25 the Florida Folk Festival takes over the town of White Springs. Musicians, craftspeople (to be PC), food and outrageous all-night jamming are on tap. Headliners include Nashville recording stars, Amy Carol Webb, Mindy Simmons, Gatorbone, and a host of angels/demons with instruments. If you have not attended a FFF, give it a day. See you there!
Woodview's season will come to a close on June 6th when HANNAH'S WHIRL will be our featured guests. Paul and Tami took part in an open mic at Woodview a while back and were such knockouts that we wanted everyone to hear them.
Finally, a homework assignment. Over the summer a group of us will gather to select the featured artists for next season at Woodview. If you have a favorite group that have performed before or have heard elsewhere or just a type of performance to include in the mix, let us know and we will add their name(s). Woodview is about sharing the music and without your ears and your voice we can only guess. Just email your suggestions to us here at Woodview@tampabay.rr.com Thanks for your support and help.
HOUSE CONCERT
featuring
STEVIE COYLE
(of 'Waybacks' fame)
Tues, May 6, 2008 7:30pm
at Karan and Chuck's Home
148 Tucker Lk Rd, Melrose
Doors open at 7:00pm
Bring a chair if you want to be guaranteed a place to sit. We probably have 20 available chairs.
or call 352 214-4756 or 386 659-2041
Suggested Donation - $15.00/person
All donations will go directly to Stevie Coyle
BYOB, a chair, (blanket if it's outdoors), and feel free to bring a snack to share
On a personal note, he's a fabulous finger-picker, singer/songwriter who entertains and interacts with the audience. Better than a barrel of monkeys! You'll enjoy him! Karan
==============================
Directions from Gainesville: Take Hwy 26 to Putnam Hall. Turn R on Hwy 100. Go 8/10 mile. Turn R on Swisher Lk Tr. Go 7/10 mile. Turn R on Tucker Lake Rd. Go 5/10 mile. Turn R at the fork. Go to the end of the road and turn R (at the hubcaps). Address is 148 Tucker Lk Rd. Melrose
==============================
=====
SWEETWATER SUNDAY MARKET AND MUSIC SERIES is winding down. The farm closes at the end of May. We harvest the last crops of the season, till the fields under, plant a cover crop and wait for fall. Don't miss the last few Sundays of the current season:

OPEN MIKE 12 noon to 1 pm --Featured performers each Sunday, at 1 pm and 2 p.m.


April 27 Scotty Lee; Odon Soterias (Pamela Jo Hatley, host)
May 4 Bleu Gravy; Harry Hayward (Susan Fox host)
May 11 Guest Hosts/Featured Performers: Pete Gallagher & Raiford Starke, and Friends; Bluesgotus (Bill & Eli Perras)

May 18 Bonnie Whitehurst; Maggie Council (Susan Fox, host)

May 25 Guest Host David Cahalan



is Classic contemporary folk, rock, blues, and country, all from the heart with a Florida Sunshine appeal. Plays lapsteel, acoustic and electric guitars, harmonica, and can bang a few chords on the keyboard as needed. Along with his own songs on his soon to be released Florida themed CD titled Channel Markers, he has a knack for taking other artists songs and branding them with his own unique style. "Briny Blues","Cracker Country","Saltwater Sonatas". He debuted his latest song, Last Florida Waltz, at the Sweetwater Organic Farm last December and it went on to become a top finisher in the Will McLean Best New Florida Song contest.

Odon Soterias

: Wild Celtic Gypsy musicians, playing 17th century instruments in costume, returns to Sweetwater Farm after a performing a steady gig at the renaissance festival.

Bleu Gravy

: An Acoustic blend of musical genres, Bleu Gravy has a uniquely captivating sound and feel. From the songwriting duo of Aaron Oliveira-guitar, and singer/guitarist, Dylan Cowles, comes a heart felt, yet whimsical style, sure to stimulate the ears and mind. With mastery in the finger and flat pick guitar stylings, coupled by flawless rhythmic timing, Aaron knows no boundaries. Dylan, a Tampa native, is an international award winning composer (musical short, Vice Verses, NYC Midnight film contest), who's songs have been feature in three independent movies and on HG TV (Unique Backyards). Gifted with simple and complex arrangements, Dylan succeeds in drawing the listeners attention with beautiful melodies and compelling stories. Bleu Gravy has recently released an 18 track disc, entitled, Bowl Of Amnesia! Ingredients: add dashes of folk, rock, blues, jazz, and world music. Heat steadily, while stirring at alternating speeds, ladle generously into the ears. Frequently heard at the Blueberry Patch.

Harry Hayward

: From his days as front man for Tampa band Poco Loco, to his current gig as drummer for Ronny Elliott and the Nationals, Harry is a Tampa favorite. Has been under investigation by the Bunko Squad.

Pete Gallagher

: Sunset Beach Pete Gallagher is currently host of the Florida Folk Show (Thursdays 9-10 a.m. on WMNF 88.5 FM Community Radio Tampa Bay). He has been writing songs and singing about Florida for more than 35 years. Pete has appeared at the Florida Folk Festival each year since 1972, most of that time as a member of the original Green Grass Revival (Florida bluegrass/folk band) and as a duo with longtime partner Raiford Starke. Pete's music combines humor ("Dog Peter Gnats") and pathos ("The Old Rope Swing," "Suwannee River 2023") with intuitive looks at Florida characters and places, everything presented with a pro-Florida environmental theme.
Raiford Starke

: Co-host of the Florida Folk Show (Thursdays 9-10 a.m. on WMNF 88.5 FM Community Radio Tampa Bay), Raiford has emerged as one of Florida's most entertaining musical artists. Combining blues, country, folk and good old rock and roll into one stunning repertoire, his hot picking and emotional singing have earned him praise from critics and fans alike. With the Seminoles' flamboyant chief Jim Billie leading the way, Starke performed everywhere from above the Arctic Circle with an Inuit Elvis impersonator to joining Phish onstage during their historic New Years Eve 2000 concert in Big Cypress, Florida. He's played countless festivals and opened for national artists like Willie Nelson, John Anderson, Leon Russell, Claire Lynch, Paul Thorn and others. Raiford earned the title of "Best Acoustic Performer" in alternative weekly NEW TIMES'. His "Girl from Immokalee" is a WMNF favorite.

Bluesgotus

is Bill & Eli Perras, Performers of Original Inspired Acoustic Folk, Blues and Activist Music from DeLand, FL. The many inspired lyrics given to and interpreted by Eli, combined with Bill's expertise bluesy finger-style guitar playing create a very uniquely modern take on true Americana music in its purest form. Receiving much recognition for their tightly woven musical creativity, and having opened for some long time musical masters such as John Gorka, Jack Williams, Anne Feeney, Scott Ainslie, Emma's Revolution, and Paul Geremia; they humbly remain true to their personal values. They continue to speak out with strong heartfelt lyrics accompanied by soulful genuine pentatonic rhythms against social injustices, corporate greed, and daily follies in everyday life. They can grip your heart, search your soul, change a mindset, or softly strike a funny bone, all the while leaving the audience with a sentiment for the common good we desire in all mankind.

BonnieWhitehurst:

A child musical prodigy, Bonnie Whitehurst moved to Pinellas County, Florida in 1979 and went to work as an arts administrator and conductor of a children's performing arts company, an artist in the public school system and a solo concert artist. She has also worked as a liturgical musician as a cantorial soloist for a synagogue, a cantor and organist for a Catholic church and is music director for a Unitarian Universalist church, as well as a guest artist for many other denominations. Whitehurst continues her work as a musician in schools, churches and synagogues, folk festivals and as a solo concert artist and composer.

Maggie Council DiPietra

:Maggie hosted WMNF 88.5 FM's afternoon Blooz Cruise and volunteered at Tampa Bay's community radio station for about a decade before signing on as WMNF's Development Director for four years, and now applies her development talents to the Tampa Bay Performing Arts Center. Ever the indie, Maggie is a closet award-winning singer-songwriter. Her music is still played on community stations, especially those on Indian reservations, where they go off the air for a few hours every afternoon to feed the animals. Originally from Chicago, Maggie moved to Tampa in 1985. She now lives in Tampa with her Ybor City-born husband and their two boys. Her recent bandmates include bassist Ray Villadonga, guitar god George Harris, and the love of her life Danny DiPietra. They played as Maggie and the Trashmen of Ybor, or Maggie y los Basureros de Ybor. Her latest CD, Nebraska Avenue, is due out any day.

Dave Cahalan

: David is a singer songwriter who started playing the piano and singing at the age of 4, picking up the guitar at the age of 14. After attending a Performing Arts college in San Diego, he moved to Los Angeles and acted in over 50 on camera commercials and TV spots. While singing commercial jingles, David landed a gig singing backups for the "Carpenters" and toured with Karen and Richard in the 70's. Since 1988, David has lived in Clearwater, Florida raising his family, playing piano, guitar and singing the local music scene, while writing songs and dreaming of recording his original music. Album No. 1, "Flavours of Life" has just been released

Sweetwater Organic Community Farm
Sunday market 12 noon- 4 pm --
Open mike noon to 1 pm and 3 to 4 pm
1 pm Juniper
2 pm Rebakah Pulley
Juniper weaves a tight tapestry of haunting melodies and lush harmonies. Sprinkle in some fiery rhythms and compelling vocals and you have the unique sound which transports Juniper's fans to an ancient time with jigs, reels & airs then brings them back with their original Alternative Folk compositions.
Rebekah Pulley plays tough but tender mix of folk, country and rock. Listeners everywhere are taking
notice of Rebekah's sweet honey dripped vocals, heartfelt guitar playing and soul inspiring writing.

Rebekah has opened for Johnny Lang, Paul Thorn, Martin Sexton, Bonnie Bramlett,
The Duhks, Michelle Malone, Sophie B. Hawkins, Dave Mason and many others. Her CD "Songs of Southern Zen"
is in the top 5 of CDs played on WMNF 88.5 Tampa in 2006

~Here In The Real World chosen as best local release of 2003 by The St. Petersburg Times

~Rebekah voted best acoustic act for 2002 by Tampa Bay's Weekly Planet
~Rebekah voted best Singer/Songwriter 2005 by Tampa Bay's Weekly Planet
Sunday market
12 noon- 4 pm -- Open mike noon to 1 pm and 3 to 4 pm
______________________________ _________________

This Sunday 's Musical Line-up :
Mindy Simmons
Florida Songstory
Open mike noon to 1 pm and 3 to 4 pm
1 pm Mindy Simmons
A dose of singer/songwriter Mindy Simmons is just what the laugh doctor ordered. She combines quick wit and charm with a voice that moves from silky smooth to gutsy blues creating a memorable performance that feels like an evening with your best friend.
Based in Sarasota, Florida, Mindy has toured nationwide for 25 years. Her repertoire is a delightful combination of originals and standards that have led to her success as an artist who has sold her "Mindy Music" to thousands of loyal fans.
2 p.m. Florida Songstory(Lee & Betsy Paulet)
Betsy Paulet's poetry and Lee's poetic songs tell the tales of their native state, stories of lonely lighthouse keepers, long forgotten battles, recent events and Florida wildlife and critters (2, 4, and even 6 legged)... Their presentations often reflect their own strong personalities. With a generous smattering of humor, they present their stories from two different perspectives. Lee tells the tale from the male point of view, with Betsy telling it from a woman's perspective.
______________________________ _______________
The rest of the season:
SWEETWATER SUNDAY MARKET AND MUSIC SERIES
Free and Open to Public--12 noon to 4 pm
Tour the Farm . . .Organic Produce Stand. . . Farmer's Market . . . Healthy Living Workshops . . . Live Music . . . Food & Drink . . . Fun for Kids and (leased) Pets . . .Handcraft Vendors . . .
Environmentally-friendly Products
OPEN MIKE

12 noon to 1 pm --Featured performers each Sunday, at 1 pm and 2 p.m.
February 24 Mindy Simmons; Florida Songstory (Lee & Betsy Paulet)
March 2 Juniper, Rebekah Pulley
March 9 Andy DuBois,Lee Pinkerson
March16 John "Papos" Frassica;
B Avenue Band (Joey Errigo, Dean Johnson, Brad Williams
March 23 CLOSED (Easter)
March 30 Jeff Jones and Friends; Odon Soterias
April 6 Mike Handley; Dave Cahalan
April 13 Pat Hutchins Drum Group; Decemberfest Jammers
April 20 Chick & Ellen; The Mayhaws
April 27 Scotty Lee; Pasco Paul
May 4 Bleu Gravy; Harry Hayward
May 11 Guest Hosts: Pete Gallagher & Raiford Starke
Featured Performers: Pete Gallagher, Raiford Starke, and Friends; Bluesgotus (Bill & Eli Perras)
May 18 Bonnie Whitehurst; Maggie Council
May 25 Guest Host David Cahalan
Florida Forever is one of the country's most strategic land conservation programs, acquiring wildlands to benefit Florida's wildlife and people. While the accomplishments of this program are many, its funding officially runs out in 2010. Nevertheless, many parcels remain to be acquired if we hope to protect the most remarkable natural features in Florida's landscape.
Audubon of Florida along with many of the state's other conservation organizations recognize this need for a successor to Florida Forever, to continue the momentum of this essential program. Working together with leaders in the Florida Legislature, we are seeking a commitment from the state for funding of land conservation for the next decade.
Florida's leading folk music organization, the Will McLean Foundation, also recognizes the importance of raising awareness and funding to fuel this advocacy, and has pledged its talent to Audubon in a series of concerts to benefit Audubon of Florida's Florida Forever work. With the generous support of Rayonier, one of the first of these concerts will be held at Theatre Jacksonville on January 21, 2008.
This concert will celebrate Florida's special places and demonstrate community support for natural area conservation in Florida. Celebrated Florida folk artists Amy Carol Webb and The Ashley Gang are donating their time to the event and all proceeds from ticket sales will be used to support Audubon's Florida Forever and Northeast Florida conservation advocacy.
------------------------------ ------------------------
Join Florida folk music sensations
AMY CAROL WEBB and THE ASHLEY GANG
for a
FLORIDA FOREVER BENEFIT CONCERT
Monday, January 21, 2008, 7:00 p.m.
Theatre Jacksonville, 2032 San Marco Blvd., Jacksonville
Ticket proceeds to benefit Audubon of Florida and wildlife conservation in Florida.
Preferred seating $50, General Admission $30
More information and tickets online at
www.audubonofflorida.org /ffconcert
or by phone (850) 224-7546 ext. 2
Brought to Jacksonville by The Will McLean Foundation
With generous sponsorship from Rayonier.
. . . . . . . . . . . . . . . . . . . . . . . . . . . . . . . . . . . . . . . . . . . . . . . . . . . . .
Keep up with the latest in Florida conservation with
Audubon of Florida's environmental e-newsletters!
Sign up at www.audubonaction.org/florida
Bobby Hicks Appreciation Day scheduled for Dec 1st
at Skipper's Smokehouse in Tampa has been canceled.
For those of you who can't get away to be at the grand daddy folk event of them all, the Florida Folk Festival in White Springs from November 9 - 11, here's a local alternative for some great folk music" from our Down-under sister nation".

Bluehouse has ladies in harmony who are simply excellent.
We are working with the Plaza Theater at 425 N Bumby Ave., to bring great acoustic artists to the community. Mr. Dayvault was instrumental in creating last Spring's Orlando Faux Festival at the Memorial Day weekend. The Plaza has seating for up to 800 patrons, as state-of-the-art sound system (and people who know how to run it), and in anticipating a duo from Australia who have the backing of Australia's well-know fingerstyle giant, Tommy Emmanuel. Lots of close-in parking.

CFFI folks get a discount of 50%. Just mention CFFI at the ticket window.
Thanks to Russell Dayvault of the Plaza, and his staff, for their cooperation. We are looking forward to a long and exciting relationship with this great venue and we hope you enjoy Bluehouse!
Barry Brogan
Central Florida Folk, Inc.
The Plaza is a new coffeehouse located in Hudson - 8309 Joliet Street. It is on the West Side of US 19 North of New York Avenue but South of Bolton. We are open Thurs from 4-8, Friday from 6-10, Saturday 6-12. They have had several full bands play but are more set up for small acoustic groups. The Road Side Saints have been here a few times and they are two gentlemen on guitars that sing 60's to 80's folk, rock, blues. They have had the group called Late Night play who are really folk. November 10th night will be an art club doing poetry and other things... also open mic if anyone is interested. The Road Side Saints will be here again the Saturday after that and then every other Friday night. Our website which is being remodeled is myspace.com/theplazaonline.
Recently Fl. Governor Charley Crist accepted from public radio producer
Donna Green-Townsend a copy of UF Broadcast Journalism's award
winning CD- News Documentary, "Apalachicola Doin Time". Donna and
Crist while attending apointments on campus discussed the CD and its
educational and media potential.

Crist acknowledged the river-water negotiations and the importance of
public understanding of this largest river system issues soon to be
decided. To Florida's future and to esturine Northern Gulf of Mexico
fisheries this radio doc. addresses the issues Crist has more generally
regarded such as his concern for manatees regulation changes this
week by FWC.
The enviromentally alert Governor assured Donna that he definately planned
to listen to the documentary and its songs before negotiating with Georgia
and Alabama concerning a water flow agreement mandated by orders of
a Federal Court ruling.

The song "Apalachicola Doin Time" by Dale Crider is available thru
Will Mclean Foundation

Trisha and Ken Brooks sell homemade rhythm spoons, dulcimers, Cajun washboards,
and a variety of other bluegrass-style instruments. The two have been making a living
from music and crafts for 27 years. Married for 27 years, the Spring Hill couple consider
themselves devout "folkies."
Saint Petersburg Times Featured Article -> Read More..........

Valerie Wisecracker and Angela Patua, Brazilian Musician, paid tribute to
Diamond Teeth Mary at the Tobacco Road Lounge
Mary " Diamond Teeth" McClain, an original!
from The African American Registry



Mary McClain

*Mary Smith McClain was born on this date in 1902. She was an African-American blues singer and entertainer.

Better known as Walking Mary and later Diamond Teeth Mary, she was born in Huntington, West Virginia. Mary McClain was the half sister of Bessie Smith (Smith's mother was one of Mary's four stepmothers). At the age of 13, young McClain couldn't stand the beatings any more and left home to join the circus disguised as a boy in her brother's clothes. She came to Memphis, Tennessee, worked as a chorus girl and joined the Rabbit Foot Minstrels, where she became a featured singer.

McClain spent the 1920's and 1930's performing in a variety of medicine and minstrel shows. She shared billings with her sister Bessie, Billie Holiday, Sarah Vaughan, Big Mama Thornton, Ray Charles, Charlie Parker and Duke Ellington. She toured with the USO and sang at the Apollo Theater, the Smithsonian, and at the White House where her show-stopping charisma received standing-ovations. McClain also lived with baseball great Satchel Paige, and was never short of stories about her life and times. One evening in Memphis she recalled that a young Elvis Presley "would bring Howlin' Wolf and me liquor from the liquor cabinet."

During the '40s, McClain had diamonds removed from a bracelet and set into her upper and lower front teeth, creating a dazzling stage effect. The diamonds, earned McClain her nickname, and although the original stones were sold to help pay her mother's medical bills, she later got a new set of teeth, new diamonds, and her first album release, IF I CAN'T SELL IT, I'M GONNA SIT ON IT on the Big Boss label. Tragically, McClain witnessed the heartbreaking death of Bessie Smith. She once remembered "Bessie was lying in a hospital waiting room, her arm hangin' by a thread and bleedin' in a pan while the white doctors stood by and watched doing nothin'. They let her die."

"Diamond Teeth" Mary McClain died on April 4, 2000. As she wanted, her ashes were sprinkled on the railroad tracks in West Virginia where she hopped her first train. Her gowns are in the Florida State Museum and the Memphis Blues Museum. in Miami, Tobacco Road named the performing room upstairs the Diamond Teeth Mary Cabaret in her honor.

Reference:
Nothing But the Blues The Music and the Musicians
Edited by Lawrence Cohn
Copyright 1993 Abbeville Publishing Group, New York
ISBN 1-55859-271-7
Val C. Wisecracker
& Cindy "Sawgrass" Hackney
Labor Day Weekend
Clyde Butcher's Big Cypress Gallery
Labor Day Weekend Sept. 1, 2 & 3 Sat, Sunday & Monday
Clyde Butcher's Famous Big Cypress Gallery


Just a quick invitation folks, hope to see you somewhere between here and there. Cindy "Sawgrass" Hackney & Valerie C. Wisecracker will be playing all 3 days. Make reservations for the walk or just show up for the gallery, music, enviro booths, cracker food and much more.

Last year Jen Noble from Tampa's WEDU PBS did a 10 minute movie on our Muck-Abouts. It is a wonderful movie. I thought it would be fun to email everyone the link to the movie to watch. If you think people are CRAZY for going on swamp walks and you could never do it....you need to watch it. I have included this years' info on the swamp walks below.

Click on below to watch Swamp Walk Movie
http://clydebutcher.com/AGCJ _Swamp_Walk.wmv

Log onto www.clydebutcher.com to make your reservations or
call number on website.

Cindy and Val's CD "My Florida"
WILL BE FOR SALE AT ALL EVENTS


Please bring your signed waivers that was emailed to you.
All credit cards are being put through this week / no changes/cancellations.


DIRECTIONS TO THE GALLERY:
FROM MIAMI: Take Tamiami Trail/HWY 41 heading west, we are 35 miles past the Miccosukee Casinao/Krome Ave - the gallery is located just 2 miles past the Midway campground on the left.
FROM NAPLES & POINTS NORTH: Take Tamiami Trail/Hwy 41 heading west, the gallery is 46 miles past the intersection of 951/41. The gallery is a ½ mile past the Oasis/Big Cypress Visitor Center on the right.
OR take I-75, exit South (Right) at 29 (Sign says Smallwood Store/Everglades City)
Go south till you hit first major intersection US 41. (aprox 15 miles)
At US 41 go East (left) aprox. 20 miles
The gallery is a ½ mile past the Oasis/Big Cypress Visitor Center on the right.

- Click to view http://clydebutcher.com

Valerie C Wisecracker Please visit her web site
at www.wisecracker.net for more info, songs, events and
other Wisecracker information.