Central Florida Bluegrass Association News
Courtesy of

Cheri Hornsby
Lots of bluegrass stuff happening!

---
Tennessee Smokehouse
1401 East Gary Road, Lakeland FL -
863-683-0303
Thursday Night

Bluegrass

Nite
MITCH LIND AND THE LAGERHEADS
Starts at 7:30 till about 9:30pm
---
---
Great food!!! Good Times!!!
Come get your meat on!
---
---



FRI APR 26




Dr. Ralph Stanley & The Clinch Mountain Boys

(

BLUEGRASS

) Ralph Stanley has been performing professionally since he and his older brother, Carter, formed a band in their native southwestern Virginia in 1946. Between that date and 1966, when Carter passed on, the Stanley Brothers and the Clinch Mountain Boys became one of the most celebrated

bluegrass

groups in the world, rivaling in popularity such titans as Bill Monroe and Flatt & Scruggs. After Carter's death, Stanley shifted the band's musical emphasis from hard-driving

bluegrass

to an older, sadder, less adorned mountain style. As a bandleader, he nourished such young and promising talents as Ricky Skaggs, Keith Whitley, Larry Sparks and Charlie Sizemore, all of whom eventually graduated to distinguished solo careers. While he has long been revered by enthusiasts of folk,

bluegrass

and country music, Stanley has lately been commanding the kind of honors due a musical original. In 2003, he shared with his friend Jim Lauderdale a Grammy for Best

Bluegrass

Album. The year before that, he won Grammys for Best Country Male Vocalist Performance (beating out Johnny Cash, Willie Nelson, Tim McGraw, Lyle Lovett and Ryan Adams) and Album of the Year (for his part in the O Brother, Where Art Thou? collection). In 2001, he was the subject of an admiring profile in the New Yorker, written by novelist David Gates, who traveled with Stanley for months gathering material. drralphstanley.com
w/

Alison Brown Quartet

compassrecords.com/alison-brown

8PM $20/25



---
---
Not really their house
Saturday 04/27 Annual picking at the Hobit House ;-) … Each year DL and Barbara Cuthbertson graciously allow CFBA to have a day picking at their lovely home in Lakeland. Their home is a true testament to a lovely and minimal impact to the environment. It is an earth covered dwelling set amongst large aged oaks. Join us for a day of picking 1pm to dark thirty… Meal plans will be announced but make sure to plan on bringing a covered dish.
---
---
April 27, 2013, 7:00 pm to 10:00 pm
BOK TOWER GARDENS
Lake Wales,

Florida



Grab your lawn chairs and put this totally
special day on your calender

now!
Come Early...Tour the absolutely gorgeous botanical gardens and top it off with a concert! The Alison Brown Quartet and the Duhks will be bringing in the evening... wow!

---
---
MARK JOHNSON & EMORY LESTOR
Saturday, April 27 at 2 p.m. and 7:30 p.m.
The award-winning musical duo of Mark Johnson on banjo and Emory Lester on mandolin and guitar will appear live in concert at Ocala Civic Theatre on Saturday,April 27 at 2 p.m. and 7:30 p.m.
Well-respected by traditional musicians, this acclaimed duo has received great reviews from the

bluegrass

and acoustic music community. Mark, a resident of Dunnellon, has been called one of the greatest banjo players in the world. He and Emory recently wowed national audiences on "The Late Show With David Letterman," appearing with actor/comedian and fellow banjo player Steve Martin - who is also a friend and student of Mark's.
---
---
SEB at

Bluegrass

and BBQ in Bartow

Florida
SEB will be performing at the

Bluegrass

and BBQ event in Bartow,

Florida

. we will be playing from 2 til 5.. Come on out and enjoy some great BBQ and

Bluegrass
---
---
Rowan Cunningham Band Vocal Work Shop $25
---
---
Rowan Cunningham Band Performance $15
---
---
May 4 Saturday - 2pm to 4pm
CFBA Open Slow Jam
(come w/ a song ready)
A little birdee (Claire Lynch) told me to make sure to come see
her and the boys on Saturday May 4 at the Gamble Rogers festival
Call in and get your Camping Reservation early and plan on spending the weekend. Bring your instrument and jam on the beautiful Braden River ! Vendors call in and get your spot. For all the Gumbo cookers, you can call Rita at the Lodge. 941-755-2757
---
---
POLK COUNTY HOUSE CONCERT
Hard driving, blues influenced, song & groove man who often writes about people who live on the fringe of society. His vibe is loose &soulful. With a greasy guitar style, horn-like harmonica phrasing, smoky vocal style & pulsing foot percussion he immediately rivets audiences. His solo performance fills a concert hall with all the sound layering and drama of a full band.
---
---
Join
CFBA on Saturday May 11 4pm at our booth at the WMNF
Tropical Heatwave Street Bazaar. The Cotton Eyed Does will have a booth directly beside the CFBA booth and there will be jamming from 4pm till late. Cost is free come out and explore the many booths and considering buying a ticket and going to see some of the shows.
---
---
CFBA day jam at Bailey Acoustic Shop 10am to 3pm
Corner Store jam 5pm to close…
---
---
Thursday, May 23, 2013 @ 7:30PM
The Mahaffey Theater
presents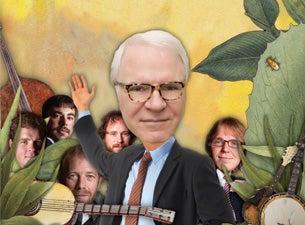 & The Steep Canyon Rangers
Feat. Edie Brickell
Steve Martin and the Steep Canyon Rangers featuring Edie Brickell will showcase material from Martin and Brickell's new album Love Has Come for You, along with Martin and The Steep Canyon Rangers' unique hybrid of

bluegrass

and comedy.

---
---